Wedding
Tomasz Ossoliński is a tailor and a designer who puts special emphasis on the construction of clothes and combines his artistic vision with solid handcraft. Such skills translate into a cut, a fit and a quality which are nowhere to be found at bridal salons or brands offering ready-made suits.
Tomasz Ossoliński's Atelier is a team of the best specialists in their field who cultivate the culture of hand-made clothes. There is no other place like this in Poland – our Atelier offers tailor-made both wedding gowns and suits.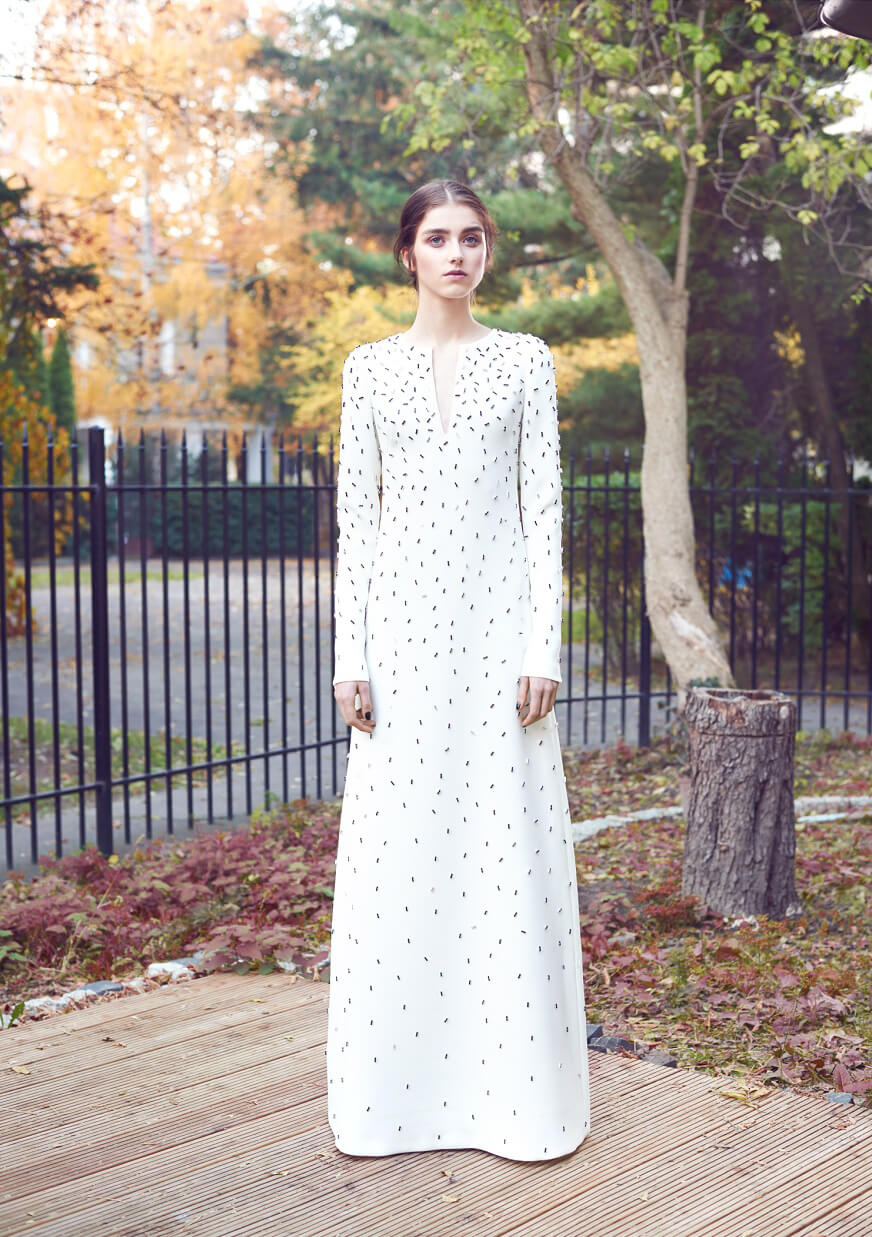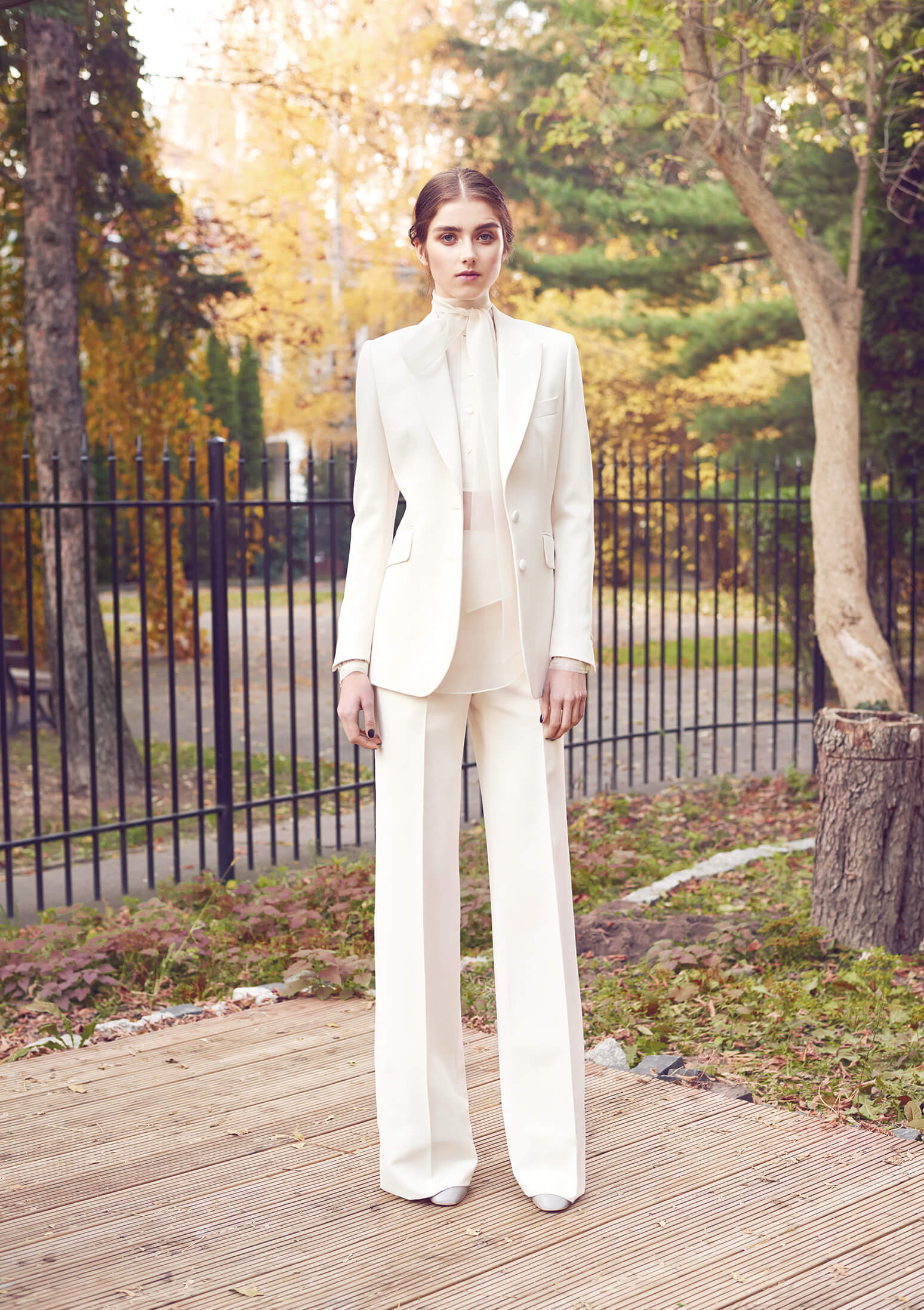 Wedding gowns
Tomasz Ossoliński pays a lot of attention to communication with a bride-to-be – a fully individualized design can only be created this way. Many factors matter: a concept of both wedding ceremony and reception, style preferred by the client on a daily basis, her personality and body type.
After taking measurements, we proceed with sewing a muslin prototype. It gives the client a more complete look at the cut, whereas the designer may focus on details and perfect fit. During subsequent meetings, we work on the dress sewn already from a final fabric.
Tomasz Ossoliński's wedding gowns represent the purity of form and traditional handcraft. The Atelier gets inspiration from old, usually forgotten, techniques of tailoring, embroidery and applique. All ornaments are sewn on manually (in the case of dresses from bridal salons such ornaments are usually glued on). Minimalism does not exclude spectacular accessories; quite the opposite – the crystals that we frequently use look best on noble forms: they elevate the harmony of lines and add more dimension and glamour.
Our Atelier is not only about tailor-made dresses. Over the years, Tomasz Ossoliński has honed the construction of suits. He uses his experience in this matter in women's fashion, in the wedding version as well. The Atelier creates women's wedding suits, wedding jumpsuits and women's tuxedos which are selected by clients both for civil weddings and traditional weddings in church.
All wedding gowns are sewn in Warsaw. Consultations and fittings take place at the Atelier at Ujazdowskie Avenue.
For more information or to make an appointment, call +48 500 166 566.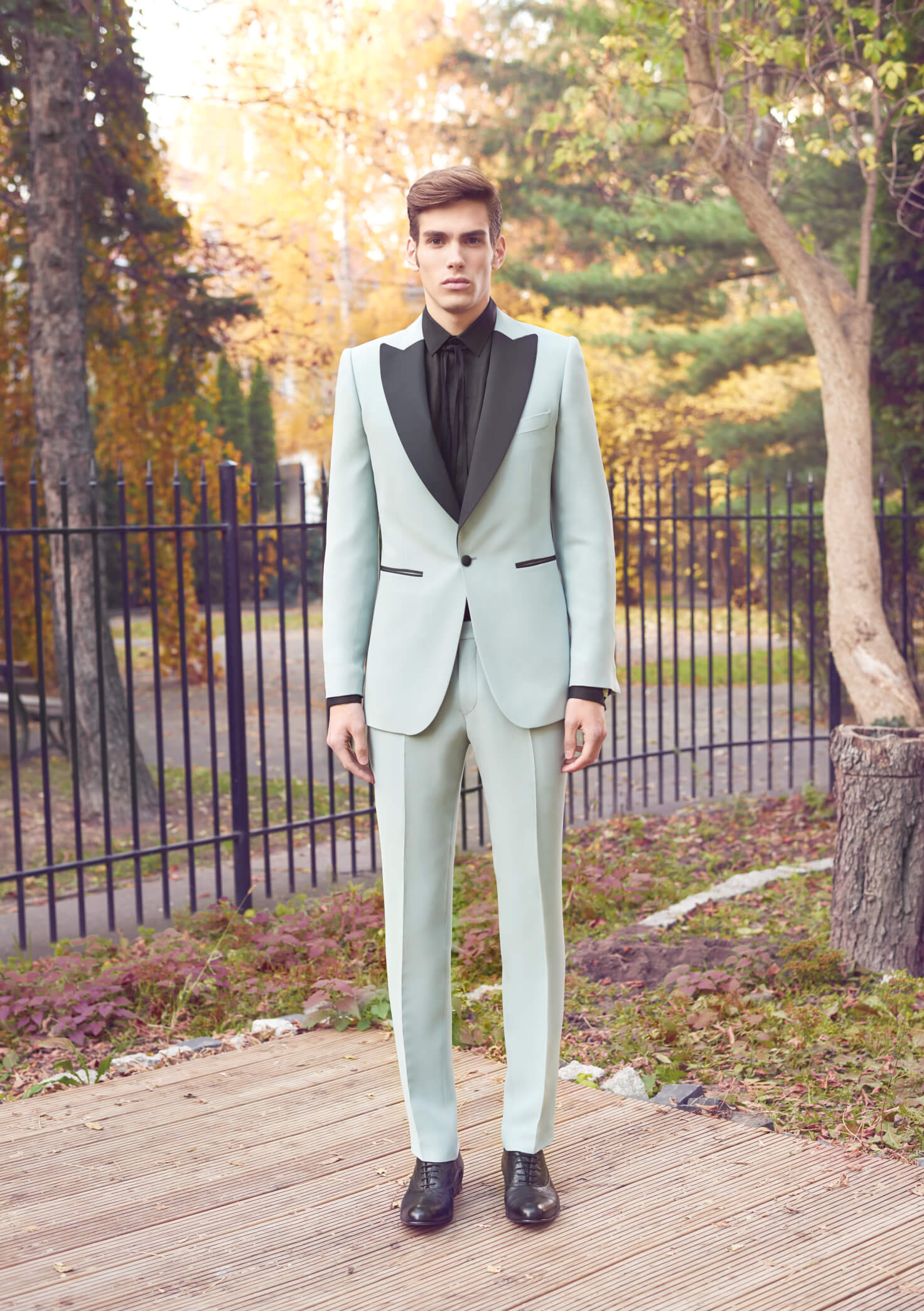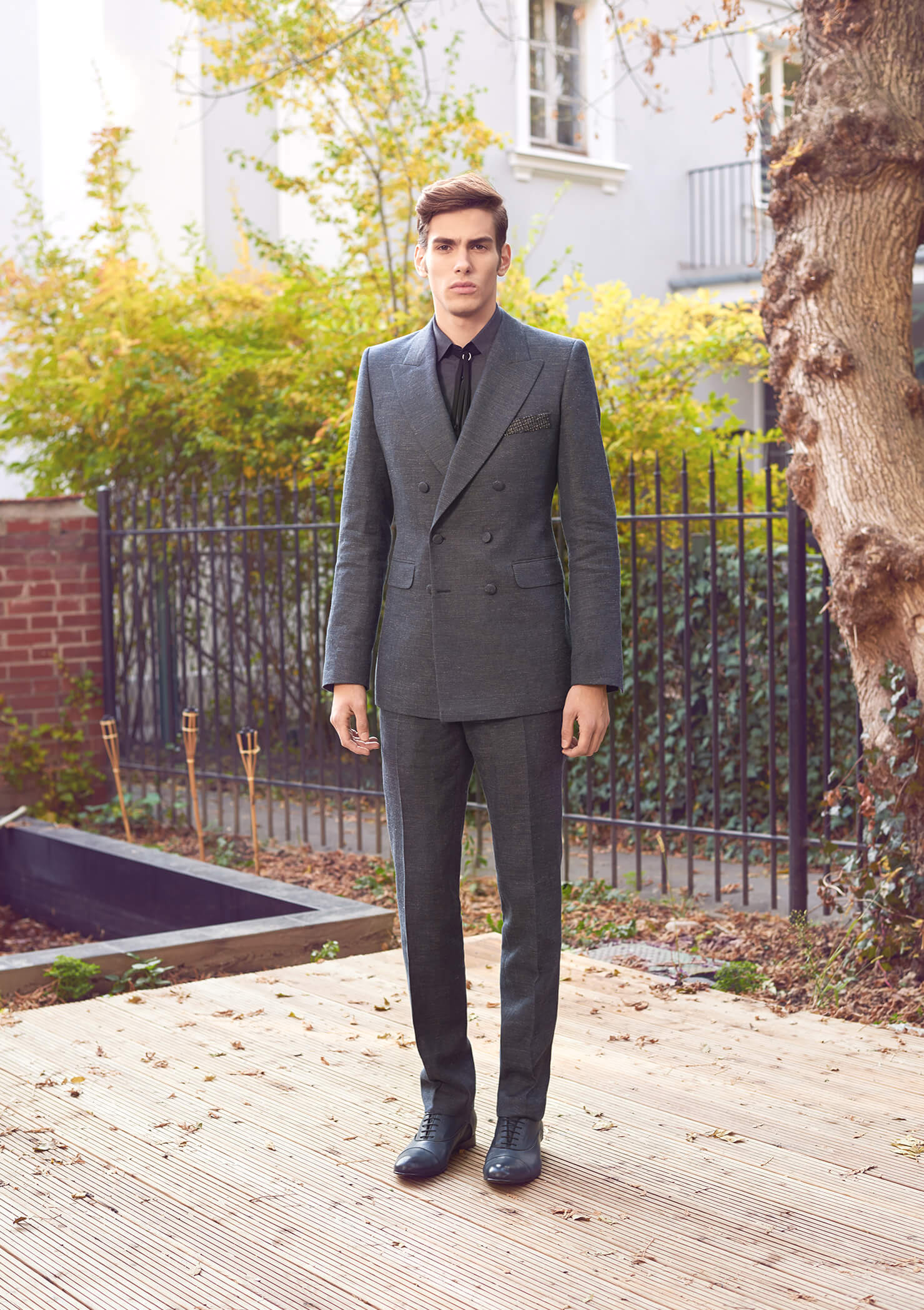 Wedding suits
Tomasz Ossoliński's Atelier has been specializing in tailor-made suits for years. We combine classical tailoring techniques with modern design and technology.
A groom-to-be can be sure that we will guide him through the entire process of making a suit – starting from the selection of a style consistent with the concept of the wedding ceremony to the selection of accessories (the Atelier offers hand-sewn bow-ties and pocket squares). A first meeting is a conversation with Tomasz Ossoliński concerning future groom's everyday style and solutions that prove best on the wedding day.
In our Atelier there are several thousand samples of wools of various density and weaves, including noble blends, for instance with silk or linen. A suit for a groom does not always have to be black; factors such as a season, time and venue of the ceremony should be taken into consideration. Depending on these factors, we can offer a navy, gray or blue suit and a cotton suit for an outdoor ceremony.
Irrespective of the fabric and color chosen, a tailor-made suit has a great advantage over the one purchased in a store. A ready-made suit has a construction that is fitted to the widest group of clients possible – it has a standard armscye depth and crotch depth, whereas buttons and pockets are located in the same places for everyone, regardless of a body type. Such a standardized suit cannot look good on every body type.
At Tomasz Ossoliński's Atelier, the process of making a suit is fully individualized and starts from sewing a prototype for each and every client. Thanks to this, we are able to discuss a given suit right down to the smallest details – lapel width, position of buttons, types of pockets – all the elements are chosen to match client's body type and preferences.
We sew single-breasted and double-breasted jackets. We are one of few places in Poland where you can have your tuxedo as well as the most formal version of men's clothes, that is white tie, sewn.
Consultations and fittings take place at the Atelier at Ujazdowskie Avenue.
For more information or to make an appointment, call +48 500 166 566.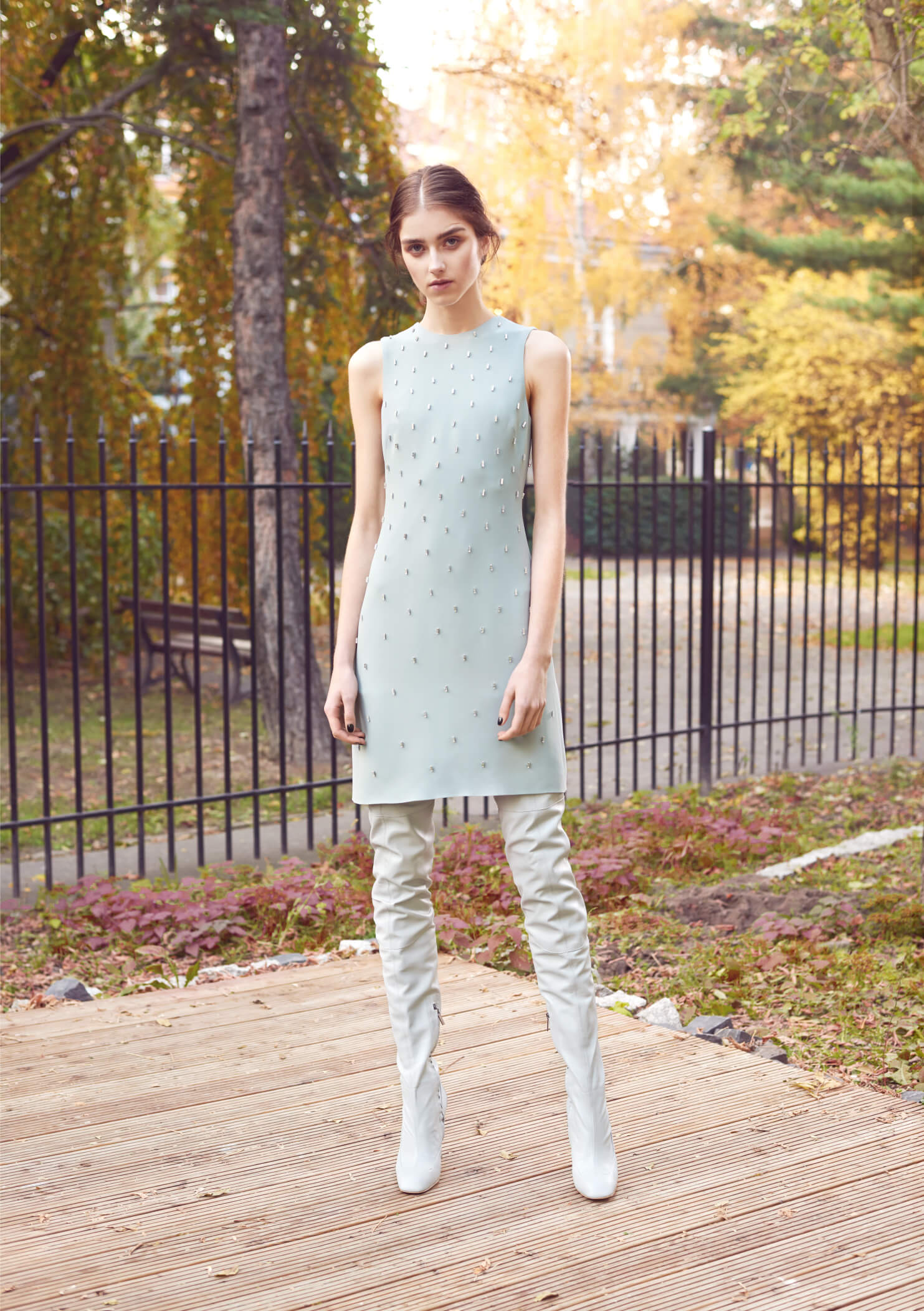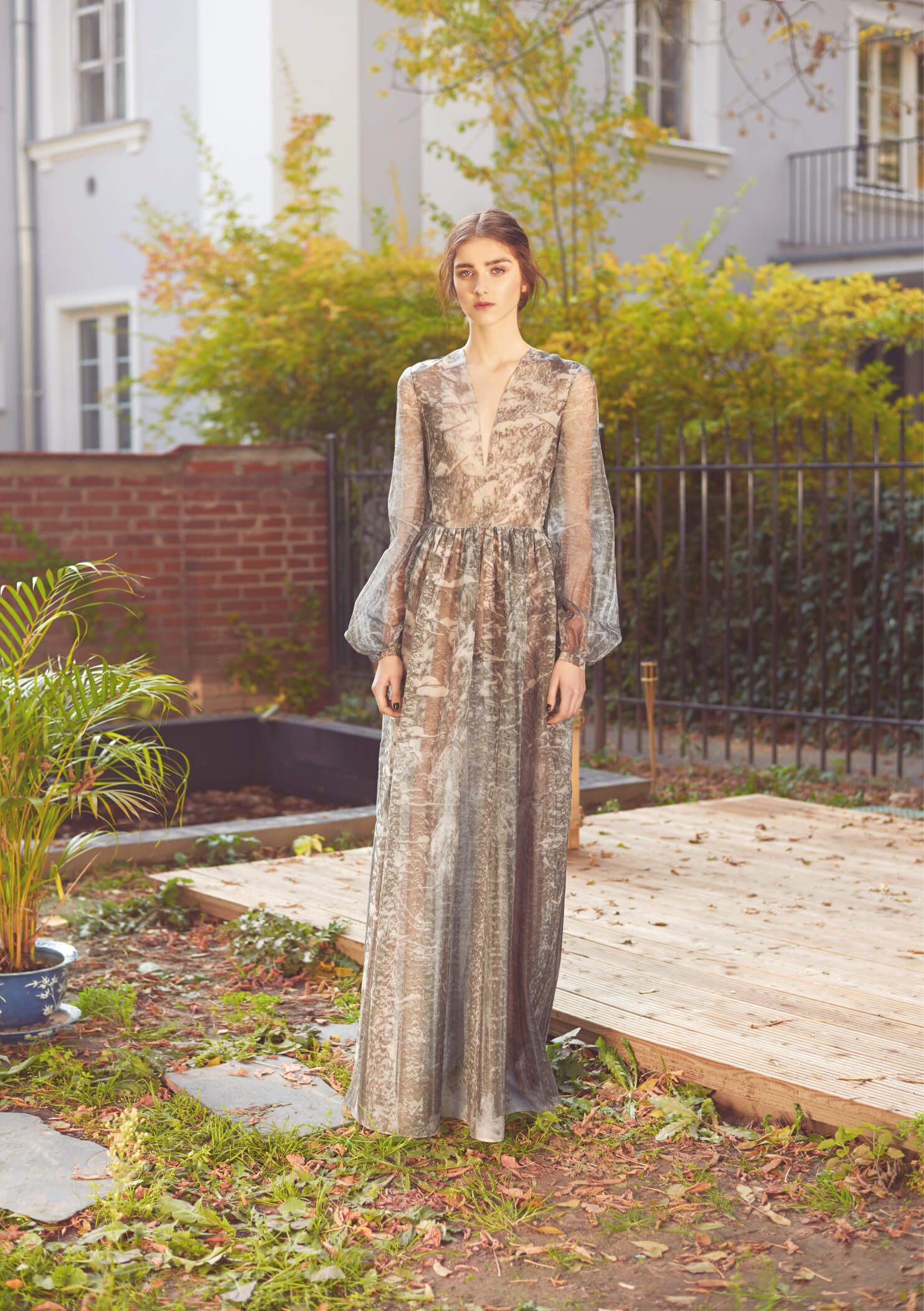 The family of bride and groom
At Tomasz Ossoliński's Atelier we also dress parents of bride and groom, sew bridesmaid gowns, dresses for flower girls, suits for boys.
Photo: Tomasz Ossoliński Atelier archive